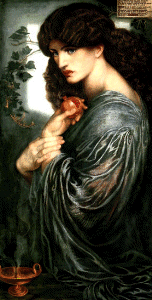 name Persephone, Kore, Proserpina

role goddess of the underworld; wife of Hades

herbs Parsley, narcissus, willow, pomegranate

associations are the bat, willows, grain, corn, narcissus, the pentacle and the pomegranate. She's often depicted carrying a cornucopia.
Persephone/Kore is the Goddess of the Seasons and the Underworld. She represents rest, winter, survival and overcoming obstacles
Persephone is the goddess of the underworld in Greek mythology. She is the daughter of Zeus and Demeter, goddess of the harvest. Persephone was such a beautiful girl that everyone loved her, even Hades wanted her for himself. When she was a little girl, she and the Oceanids were collecting flowers on the plain of Enna, when suddenly the earth opened and Hades rose up from the gap and abducted her. None but Zeus had noticed it.
Broken-hearted, Demeter wandered the earth, looking for her daughter until Helios, the all-seeing, revealed what had happened. Demeter was so angry that she withdrew herself in loneliness, and all fertility on earth stopped. Finally, Zeus sent Hermes down to Hades to make him release Persephone. Hades grudgingly agreed, but before she went back he gave Persephone a pomegranate to eat, thus she would always be connected to his realm and had to stay there one-third of the year. The other months she remained with her mother. When Persephone was in Hades, Demeter refused to let anything grow and winter began.